100,000 American AAdvantage Miles for "Double" Citi Card Sign-Ups
This may not fall under the heading of original, but I felt the potential made it too good to simply pass on posting about.
OFFER:
Credit card sign-up mileage bonuses often hover in the 30,000 to 50,000 mile range.  However, the Citi AAdvantage Visa and American Express cards make it possible to earn 100,000 American AAdvantage miles.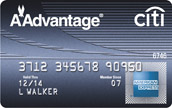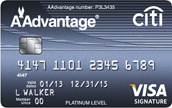 REQUIREMENTS:
The  "two-browser" trick makes it possible to sign up for both the Citi AAdvantage Visa and the  AAdvantage American Express cards, and you can use these links to apply.
Again, it is possible to apply for these using multiple broswers/tabs, or to apply for one after the other, as The Points Guy shared.
The key deterrent to some may be that each card has a minimum spend requirement of $3,000 in the first four months, for a total of $6,000.
BENEFITS:
In addition to the mileage bonus, the card benefits are:
Annual fee waived for the first year ($85 afterward)
One-time $100 statement credit on the first purchase
Receive a (one) free Companion Certificate for use with a paid round-trip coach fare
(Qualifying fare classes are H/V/M/L/K/W/V/G/S/N/Q/O)
Two AAdvantage miles for every dollar spent
Furthermore, If you were to successfully apply 60 days later for the Citi Business AAdvantage card, it would be possible to bring your point haul to a whopping 150,000 American miles.  As opposed to the personal versions of the card, this includes a higher statement credit ($150) and 2 Admirals Club one-day passes, and the same $3,000/4 month spend requirement.
WARNING:
The actual application pages for these cards do not show any indication of the 50,000 mile sign-up bonus for each card, so apply at your own risk.  That said, without risk there is no reward, and it never hurts to ask.  Worst case scenario, you will end up with a card with a few perks and no annual fee.
ANALYSIS:
When racking up miles and points, it is important to operate with a goal in mind.  First/Business Class on American, JAL, LAN and Qantas are all worth-while goals.  However, the kicker for me would be to use 110,000 American miles to redeem (Partner Award Chart here) for Cathay Pacific Business Class, or 135,00 for First Class, round-trip.
For the sake of full disclosure, I do not receive any compensation if you apply through the links that I have provided.
Tip of the hat to The Points Guy.